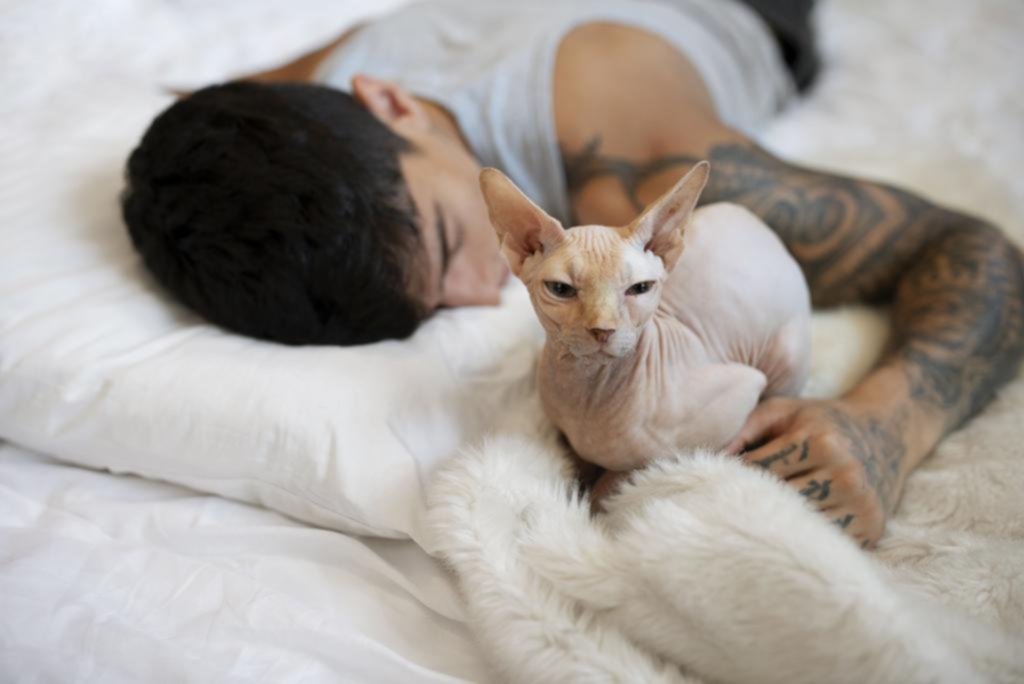 Some find it adorable, while others never let their dog or cat sit on their pillow: The decision to let pets sleep in their owners' beds is a very personal one. Experts recommend that you consider whether to let them sleep in bed before adopting a new pet.
It may be nice to have a puppy in your bed, but once he turns into a grown dog, will you want to continue sleeping with him every night? If the answer is no, the ban on going to bed should start when they are babies.
you must be clear
"Sometimes he's allowed to jump on the bed and sometimes not, the dog won't understand what behavior is expected of him," they explain. If the animal is allowed to stay in the bed, there are some important points, especially in terms of safety and hygiene. "We have to take into account that there are zoonoses, diseases that can be transmitted from animals to humans and vice versa," they say.
For example, they can be fleas and ticks, which can also transmit diseases. There are also types of worms that can pass from dogs to humans. The same goes for skin fungus and giardia, which can cause intestinal problems.
Therefore, regular parasite prevention is important. This should be done regardless of whether the animal is in bed or not.
While cats sleep in bedding, hygiene and protection against parasites are also important, especially for cats outside the home.
Flea and tick control should be done regularly and treated against these parasites. Cats can be carriers of roundworm, toxoplasmosis, bartonellosis, as well as the so-called feline disease.
People with compromised immune systems, infants and young children are particularly at risk. If in doubt, this is against having a cat in bed. Dogs and cats should be taboo in the beds of babies and toddlers. Otherwise, the child may be scratched or bitten.
There is also a danger of suffocation with babies, for example if the dog steps on the child's face or paws at the child with the blanket.
Sandra Ross, an animal welfare organization, recommends a clear line, especially when dogs and cats should not sleep. "You have to set clear rules and then enforce them," he continues, because "consistency is just as important as praising desired behavior."
Specifically, this means that as soon as the dog jumps onto the bed, it is forbidden and must be taken to its kennel. "If the dog stays in the kennel, praise him," explains Ross. The expert points out that as an alternative, the dog should be given a comfortable place where he can fully lie down to sleep. It should not be in direct sunlight or drafts. It is therefore recommended that your resting place be in a quiet corner and not in a transitional zone.
The owner may realize too late that taking the dog to bed with him isn't such a good idea. With a little patience, the dog can be taught not to climb on the bed anymore. In these cases, Ross says, training should be particularly consistent and very clear commands should be given so that the dog does not become more confused.
without exception
"So no exceptions should be allowed," he explains. Violence and punishment are taboo. Instead, he points out, "a combination of praise and perseverance is the right way when the dog behaves as desired."
While many believe this to be too complicated or nearly impossible, if you don't want the cat to continue sleeping in the owner's bed, there are ways to train the pet to avoid it. This is usually more difficult than with dogs, but not impossible. "Cats can be trained too," says Ross.
The training of cats follows the same principle as dogs, there is no punishment, there is praise and perseverance. If the cat jumps on the bed, it is lowered again and placed, for example, on the scratching post, where it is praised. "Over time, the cat learns that jumping on the bed is not worth it," says the expert.
Whether the cat can sleep in the bed or not, always offer at least one alternative place to sleep. It is important to know that cats like to sleep in high places where they feel well protected.
#Family #pets #dog #cat #sleep #bed