On November 17, at 7:30 p.m. at the Wizink Center in Madrid, the Legal Marcom Law National Gala will be held to discuss the growth of Ontier business law firms.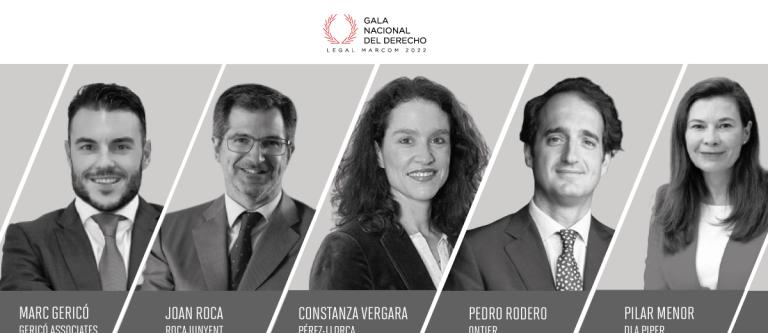 ---
Likewise, legal counsel for firms such as Banco Santander and Mercedes-Benz will discuss the keys to hiring law firms by the general counsel.
Consisting of 40 chief legal counsel and leading legal journalists from leading firms and leading legal journalists, the Award jury will reward excellence and innovation in the legal sector at a gala attended by 200 representatives of the legal profession and corporate legal counsel from Spain and Latin America. In addition to America, corporate representatives of the industry such as Madrid Bar Association (ICAM) dean José María Alonso and Madrid Community Presidency, Minister of Justice and Interior Enrique López also attended. Some awards attended lefebvre as middle partner.
As in previous years, two roundtable meetings will be held before the awards ceremony. Gericó Associates, organizer of the awards, named Constanza Vergara, partner of Pérez-Llorca; Pilar Menor, global co-president of Employment and senior partner DLA Piper Spain; Moderated by Marc Gericó, managing partner of Gericó Associates, Joan Roca, executive chairman of RocaJunyent, and Pedro Rodero, managing partner of Ontier, will discuss 'Reputation, risks and keys to growth in commercial law firms'.
Then Lola Conde, Banco Santander's corporate legal counsel; Federico Tarín, Repsol General Counsel; Ana Prado, general counsel of Mercedes-Benz and Fernando Ortega, general counsel of Siemens; Moderated by Signium's retired president and managing partner in Spain and Portugal, Ignacio Bao will discuss 'The keys to hiring companies by general counsel'.
Gericó Associates held two pre-award events at the Pérez-Llorca and Latham Watkins offices in Madrid in the weeks leading up to the Marcom National Legal Law Gala. In both meetings, the general counsel and the people responsible for Business Development and Marketing reviewed the growth in employment law firms and the criteria for hiring by the general counsel.
An extraordinary jury selected the finalists
The awards ceremony will begin at the end of both round tables. The Legal Marcom Awards jury, made up of 40 chief legal counsel from leading firms and leading legal journalists, met on October 21 at the Torre de Cristal in Madrid to discuss the nominations received and make their decisions.
The winners will be announced at the National Law Gala at the Wizink Center on November 17.
Afiens Legal, Baker McKenzie, BFE+, CorralRosales, DLA Piper Martínez Beltrán, Deloitte Legal, Hogan Lovells, Grant Thornton, Pinsent Masons, Pérez-Llorca, Simmons & Simmons, Women in a Legal World and World Law Congress are among the companies and organizations . It aims to receive awards in different categories for Spain and Latin America.
About the Legal Marcom jury
The jury was organized in three groups for deliberation in an independent and transparent process. Just as legal journalists did not for the best legal journalist, the general counsel did not vote for the best internal legal advice or participate in the negotiation of the award. The jury for this edition consisted of:
Eleanor High Priest, Head of Legal Industrial by Repsol
lalo agustinaJournalist for La Vanguardia
Cristina Alvarez, Head of Legal Europe of Cintra
Eva Argiles, general counsel by App+
carlos berbellManager of Confilegal
Susana Bravo, senior consultant International Law Department Ferrovial's
Main Buitragoold general counsel from Amazon
Fernando Cabello de los CobosSpanish Chamber of Commerce Director of Legal Services
Javier Carrascal, Senior Legal Counsel from Pfizer
Gemma Casademunt, Head of International Branches Legal Department by CaixaBank
Clara Cerdan, old General Counsel and Board Secretary From Grupo FerroAtlántica
number of lolas, former corporate legal counsel Santander Bank
Pedro del RosalResponsible for El Confidencial Jurídico
Cristina del Val, legal director Southern Europe – Consumer by Johnson & Johnson
Fernando Diaz's BoatDirector of legal advice at Sacyr Spain
Patricia StefanJournalist for Cinco Dias
Hector Figari, Director of Government Affairs, Andean Southern Region Microsoft
Xavier Gil PecharromanIuris & Lex – director of El Economista
Ana Gomez, Corporate President. Deputy Secretary of the Board of Amadeus IT Group
Adela LarioGrupo Osborne Secretary General and Corporate Governance Director
Cristina Lopez BarrancoDirector of Coordination and Control Area of ​​the FCC Legal Department
Julian Lourido, legal advisers From Vueling Airlines
heidi maldonadoLegal Leader Director
Beatriz Martinez-FaleroMahou – head of legal advice at San Miguel
Alberto Mata RodriguezHead of Legal Department at Deutsche Pfandbriefbank in Spain
teresa minguez, Director Legal & Compliance and Integrity Officer Porsche Iberica
Ana Isabel Montero, general counsel from Japan Tobacco International (JTI)
Alejandro Munoz, senior legal counselor Indra's
Fernando Ortega, general counsel from Siemens
edward perezSecretary General and Macro Institutional Relations
Isabella Perez vice president of Coca Cola Iberian Partners
main prado, general counsel by mercedes-benz
Luis Angel Prendes, Global Director Legal Affairs telephone
Emilio Puig, Head of Legal Iberia & Croatia uber
Javier Ramirez, vice president and assistant general counsel HPs
moises ramirez, legal director Spain GSK
laura sedgeenlargement journalist
Cruz Sanchez de Laravice president of El Español and editor of MagasIN and Enclave ODS
miguel solerProsegur Global Internal Audit and Compliance Director
carlos ulecia, general counsel NH Hotels
---
#Partners #law #firms #debate #Legal #Marcom #Awards