During the 'One Health: pets, health and well-being' colloquium organized by Zoetis and CEOE
Editorial Office23.11.2022
zoetisIt was held at its headquarters in Madrid, a global reference company in animal health. Spanish Confederation of Business Organizations (CEOE) II. The One Health Colloquium focused on pets, zoonosis and anthropozoonosis, the importance of prevention in healthcare, and advances in registration of vaccines for emerging diseases, their impact on our well-being, and their important role in adjunctive therapeutics. interventions and the importance of incorporating the figure of the veterinarian into the existing national health system.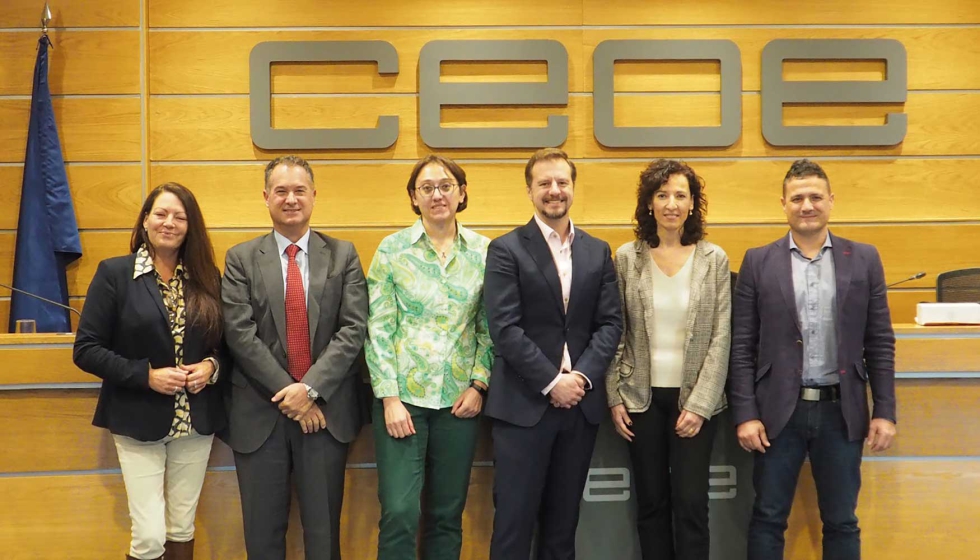 II Zoetis One Health Symposium: family photo of the speakers.
Nearly 150 attendees of the session, which was also broadcast on YouTube, had the opportunity to see firsthand the position of some of the key representatives involved, from ministries to research institutions and companies, the private sector and veterinary. clinicians and experts in animal-assisted interventions.
Sergio Garcia, Director General of Animal Rights, Ministry of Social Rights and 2030 Agenda; Diego Garcia, General Manager and Vice President of Zoetis Southern Europe; Israel Cruz, Director of the International Health Department, National School of Health (Carlos III Institute of Health); Alfredo Fernández, corporate relations manager IVC Evidence; Mercedes Mourio, Director of Research and Emerging Diseases at Zoetis Manufacturing & Research Spain; Directed by Begoa Morenza your creature and IAA (animal assisted interventions) specialist; and its president, Delia Saleno Spanish Veterinary Business Confederation (CEVE). Cristina Rivero, Director of the CEOE Department of Industry, Energy, Environment and Climate, moderated the session.
During the meeting, the parties agreed on the benefits of moving towards inclusive health, if possible avoiding distinctions between human, animal and environmental health, a need that has become more relevant as a result of the pandemic caused by COVID-19. More than 70% of human diseases in the last 40 years are zoonotic. When it comes to pets, Borreliosis, Rabies or Toxoplasmosis are some of the most serious and well-known, hence the importance of veterinary prevention with periodic vaccinations and deworming. But beyond our physical health, living with pets has a decisive impact on our emotional health. At the opening of the event, Diego García told them that caring for their health and well-being is therefore about taking care of ourselves and trying to repay, at least in part, for their contribution to creating a better world for all.
In his speech, García said that although the pet count in Spain is around 15 million, the REIAC data (Spanish Network for Pets Identification) reflects that only 11 million have been detected, leaving the rest out of veterinary control. You also mentioned the number of high school dropouts in our country (300,000 per year) in most cases related to the inability to cope with their care. All these aspects lead to less attention to his health, and therefore undermines the One Health approach.
In conclusion, he noted that the administration has proposed, inter alia, a number of legislative developments to unify the criteria for the health and protection of animals at the national level.
Climate change and globalization, catalysts of epidemiological risks
Israel Cruz affirmed that the health of people, animals, plants and ecosystems are closely related. Global changes and the emergence of infectious diseases share common factors, necessitating a comprehensive approach to them that must mobilize multiple sectors, disciplines and communities at different levels of society.
Alfredo Fernández discussed the essential role of the veterinary profession for the success of the One Health approach. He reassured that veterinarians are some of the best-trained experts in understanding the obvious interrelationships between diseases (animals and humans) and environmental impacts. Health risks change dynamically and pose a real challenge for the future of humanity. He explained that factors such as the globalization of markets, the movement of people and animals, global warming or the climate crisis represent factors that further complicate the epidemiological risks we face.
Mercedes Mourio has revealed the problem of registration of vaccines for emerging diseases. At Zoetis, we care about the world and people by caring about the health and well-being of animals. We contribute to the One Health concept by developing vaccines against zoonotic diseases such as COVID-19 (donated to zoos) or Lyme disease (in the US and Canada). Also this year, Zoetis has been selected by the World Organization for Animal Health as one of the suppliers of the Rabies vaccine bank by 2025, contributing to the goal of achieving 0 human deaths from dogs by 2030. .Infected with rabies.
In AAI processes with dogs, humans lower their heart rate, blood pressure, and blood cortisol.
Assisted intervention with dogs (IAA) professionally transfers the benefits of animals to therapeutic, educational and hospital settings. For Begoa Morenza, intervention programs with dogs succeed in increasing the effectiveness of the processes they intervene in, as various scientific studies have shown, making those helped appear more accessible, motivated, and encouraged in their presence. Dogs show a close and intimate relationship, do not judge, do not get upset and focus on the person, not their problems. Humans experience a decrease in heart rate, blood pressure, blood cortisol levels, and release endorphins and oxytocin upon contact with dogs.
Finally, Delia Saleno influenced the scourge of abandonment by insisting on the importance of harmonizing the animal breed with the lifestyle of their owners. There are studies that indicate that 50% of psychiatrists recommend keeping pets to cope with depression, but they do not consider that cooperation between the psychiatric service and the veterinarian is necessary, so the veterinarian prescribes the most suitable animal. in each case. "This is One Health," she said. In addition, the inability of cities, transportation and tourism to be adequately adapted to living with pets has also had an impact, although society demands more and more each day.
Cristina Rivero concluded the next day by emphasizing the essential role of companies in the One Health concept, particularly through the working group where the CEOE focused on this area and acting, inter alia, as a transmitter among the relevant administrations. to provide their perspective to enrich and define the law texts produced on the subject.
Through its involvement with the CEOE and the organization of this event, Zoetis aims to increase its commitment to improving health in the broadest sense, by understanding business collaboration with an inclusive and collaborative perspective that recognizes human, animal and environmental health as one and inseparable whole. As an important way to promote R&D+i and advance our short- and medium-term sustainability challenges.
#health #pets #full #impact #emotional #wellbeing #people #live