Latin America is at the forefront of many aspects of the fight against gender-based violence, the defense of women's rights and feminism. "There are more than 380 different legislation, laws and regulations on violence against women in the region," recalls German lawyer Marie-Chrisine Fuchs, editor-in-chief of the private portal. Agenda Rule of Law. From first generation laws against domestic violence to more recent laws passed in Bolivia and Peru on specific issues such as political harassment.
It stands out that there are 17 countries in Latin America that have special laws against femicide, while Germany, for example, does not have this crime. And above all, it highlights the importance of the Belém do Pará Convention, which details "a complete catalog of what states must do in different areas of life to protect women." It also has a body that oversees the implementation of the "Convention on the Prevention, Punishment and Compensation of Violence Against Women", which is a much clearer title. MESECVI.
Coach Luz Patricia Mejía admits in an interview with DW that "cyberviolence and cyberharassment against women here in the region has definitely become the subject of analysis". She draws attention to the "complexity of the mechanisms" by which violence against women is exercised, and the internet giants' "lack of response as technology advances much faster than real possibilities".
Both experts agree that "it is not enough to criminalize violence against women" in the virtual world, and that this should be taken "in conjunction with public policies and other measures". However, although there are "significant legislative challenges still", there is "very significant progress", which is the first step some countries have already taken.
Argentina:
The 2009 Law on the Comprehensive Protection of Women already recognized media violence, but did not include all its forms. In 2013, the crime of cyber harassment was included in the Criminal Code and specialized prosecutors were created. This year the "Mika Ortega" Act honors Micaela, a 12-year-old teenager who was raped and killed in 2016 and was previously scammed online.
It should not be confused with the Micaela Law, which owes its name to the murder of Micaela García, an activist of the #NiUnaMenos movement, by a man convicted of rape and a beneficiary of prison. It implements compulsory education on gender-based violence for all civil servants and public servants in Argentina. There are other highly publicized cases in the country, such as "actress" Mica "PaRkItA" Giagnoni, Evelyn Monío, or Sofía Vier, the first fighter pilot in the country, to denounce workplace harassment because she is a woman. .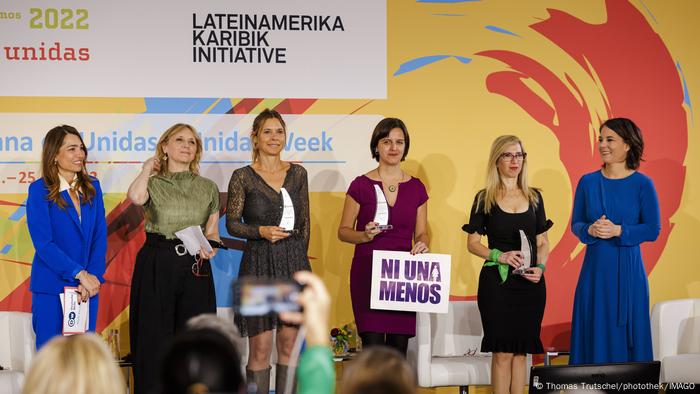 Last March, German Foreign Minister Annalena Baerbock presented the United for Women's Rights and Democracy award to the Argentine feminist movement #NiUnaMenos.
Brazil:
Maria da Penha's iconic Domestic and Domestic Violence Act of 2006 was amended in 2018 to include breaches of privacy and the non-consensual dissemination of sexually explicit images. Da Penha suffered two assassination attempts by her husband that left him paraplegic for life. "She became an advocate for women's rights," explains Fuchs. "Searching for what we call structural punishment in Latin America, which later became the standard for the entire region, it began to present cases of violence against women to the human rights courts," she continues. In a historic decision, the IACHR held the Brazilian Government responsible for not taking any action in the Da Penha case.
Brazil has an important regulatory framework for digital rights (Internet Civil Framework). Known as the Carolina Dieckmann Act, a law enacted for an actress to post computer images on the Internet included such computer crimes in the Penal Code in 2012. But all this hasn't prevented cases like the case of journalist Patricia Campos Mello, who was subjected to a harassment campaign in a case where both she and her son were sentenced to death after being accused by Bolsonaro of offering sex in exchange for information.
In August 2017, a Piauí judge sentenced a man to a 30-day temporary jail sentence for a man accused of "virtual rape" (forcing him to send intimate sexual images with threats). The term "virtual rape" was also used in another case last year. In this case, a man was convicted of persuading two underage boys to have sex on camera.
Hot pepper:
Chilean legislation has highlighted online violence against children and adolescents and, in the case of adults, the unauthorized dissemination of sexually explicit images. A bill passed in the Lower House in September is currently being worked on and, if finally passed, would change the Penal Code to include "digital violence". There are also laws specific to bullying in schools and academics.
The so-called Antonia Law, which was enacted in memory of 21-year-old Antonia Barra, who committed suicide after being raped in 2020, considers incitement to commit suicide as a crime, taking into account the aggravating state of femicide for gender reasons. It also includes legal amendments to protect victims of sexual crimes and prevent re-victimization. Also, Fuchs thinks, "the Constitution they proposed was not ratified, but the feminist amendments it contained were the most advanced in the world."
Colombia:
The Rosa Elvira Cely Act has criminalized femicide since July of this year. Since 2008 there is a Law that "guarantees the right of women to live a free life without violence" and there are special regulations for victims of crimes such as "acid", after cases also involving the media, but there is no legislation against cyberbullying outside the realm of bullying . A bill to criminalize digital gender-based violence is under discussion, although it mainly focuses on the unauthorized disclosure of intimate images.
In a recent sentence, the Constitutional Court asked Congress to "follow the recommendations formulated by the United Nations Organization Human Rights Council and the Organization of American States on the prevention, protection, restoration, prohibition, and punishment of digital media." gender violence". In this way, she openly acknowledged a legal loophole long denounced by feminist associations that limited the Court's means to combat these crimes.
Ecuador:
The 2018 Comprehensive Organic Law on the Prevention and Elimination of Violence Against Women defines "areas where violence against women occurs" and includes "media and cybernetics" "containing the context in which violence is practiced, whether public, private or through the community". media, traditional tools or social networks, virtual platforms or any other information technology".
The Anti-Violence, Digital Harassment, and Privacy Infringement Act aimed to replace the previous organic law, but was partially vetoed by the government because of the way it imprisoned those who disclose secrets or information without their consent. the affected party has made no exceptions for situations where such information is in the public interest and could restrict freedom of the press and expression. Some freedoms that the previous government cut. That is, it is re-evaluated by the camera.
Mexican:
Last year, Congress passed reforms of the Federal Penal Code and the General Law on Women's Access to a Violence-Free Life to recognize digital violence and classify the crime of violating sexual intimacy through the distribution of non-consensual images. The so-called Olimpia Law has been passed in Mexico, but Mexican federal law still neglects other forms of digital gender violence, according to experts.
State legislation in Mexico has been aligned with the Olimpia Act, which owes its name to Olimpia Coral Melo, which was released without permission in 2014, with more than 35 legal reforms in 28 of 32 states. sexually explicit video. "He was the one who created a reflection process on what happened to him, and with incredible endurance he created a process of discussion and discussion about what happened to him," emphasizes Luz Patricia Mejía. And again, in this case, she emphasizes that the person promoting change is a surviving victim. "This couldn't be the case because there are many young women who decide that committing suicide is the best way to get rid of cyberbullying, cyberbullying and online violence."
Mexico City, for example, passed its own Olimpia Law to provide "a broader protection plan that can prevent such attacks from escalating, aggravating, or transferring to physical space." He also passed a special law to prevent such leaks, in response to the widely publicized release of images of the cleft body of Ingrid Escamilla, a femicide victim.
Peru:
After the Eyvi Ágreda case, the Peruvian president stepped in personally in 2018 to pass a legislative decree in which Peru included the crimes of harassment, sexual harassment, sexual blackmail and the dissemination of sexually explicit images, audiovisual materials or sounds into its Penal Code. . Ágreda was harassed (died weeks after her injuries) by a former partner, who burned her to death with gasoline. Legislation did not classify harassment as a crime, which could have saved him. The case sparked a protest movement that changed the legislation.
"During the six years I've lived in Latin America," Christine Fuchs recalls, "if anyone asks me what the big difference is in how laws are made and what drives change, I think civil society in general and women, and feminist movements in particular, are there It plays a much more important role than in Europe."
Uruguay and Paraguay
In both countries, non-consensual disclosure of sexually explicit images or recordings is punishable, or as set forth in the Paraguayan Law on the Comprehensive Protection of Women from All Forms of Violence affecting the Dignity or Privacy of Women.
"The problem is not the law," Fuchs sums up. "On a regulatory level I would say Latin America is doing pretty well, but the problem is that despite this improved legislation, the numbers of violence against women have not decreased in recent years, at least not in the United States. In the context of the pandemic," she complains. "Many times, if we see it alone, we have to wonder if legislation alone is really the solution to all of our problems, and especially 'structural machismo'.
Cyberbullying is demanding more and more victims.

#Legal #fight #cyberbullying #Latin #America #important #news #analysis #Latin #America