UN Women Bolivia this Friday with 16 days of activism ¡Unete!
According to a report prepared by the United Nations Organization (UN) with data from the Economic Commission for Latin America and the Caribbean (ECLAC), an average of two women are killed a day in Bolivia. According to this index of 2.1%, the country ranks first in South America and fourth in Latin America in terms of femicide.
The same document details that between January and October 2022, the Public Ministry recorded a total of 80 femicides in the country, and 122 boys and girls were orphaned.
To raise awareness and action against these alarming figures, UN Women Bolivia is this Friday with 16 days of activism to "Unite!" to counter violence against women and minors and build joint actions between the State and society. will start the campaign. .
"Bolivia ranks fourth in Latin America and first in the South American region for femicide, a dreadful figure that should worry us all. Nidya Pesantez said, "It's not just a problem that the government has to solve, it's a serious problem that concerns all of us." UN Women Bolivia.
The country with the highest rate of femicide in the region is Honduras (6.2), followed by El Salvador with 3.3, the Dominican Republic with 2.7 and Bolivia with 2.1.
7 out of 10 people experience violence
The figures for violence against women recorded by the UN Bolivia are alarming because according to the Public Ministry data, 40,388 cases of violence against women and children were recorded between January and October 2022; and there were 80 femicides.
According to INE 2016 data, more than 2 women were killed per day in 2019, and 7 out of 10 women experienced some form of violence at some point in their lives, according to ECLAC.
Between 2016 and 2022, at least 536 children and adolescents lost their mothers killed by their spouses. Many now live with their grandmothers. From January to September in 2022, 122 boys and girls were orphaned.
Read more: Domestic violence complaints increased by 11%
2016 INE Violence Prevalence Survey 2016 data show that 75 out of every 100 women report experiencing some form of violence from their partner during their relationship.
The same source states that in the last year, 39% of women who are married or in a free relationship have been subjected to psychological violence, 20.7% to physical violence, 15.3% to sexual violence and 15.1% to economic violence.
Offer
Join the Campaign! It will be held from 25 November to 10 December with an intense agenda of action to strengthen the commitment of government officials and civil society to combat all forms of violence against women and girls.
Officials of the multinational Bolivian State, social organizations, international cooperation, youth organizations, young leaders and women leaders will participate in the United Nations global campaign.
Join! Run since 2008 and in its twenty-fourth version "Time to act! Let's end violence against women and girls", with areas of inquiry, information and awareness for the prevention of violence and girls.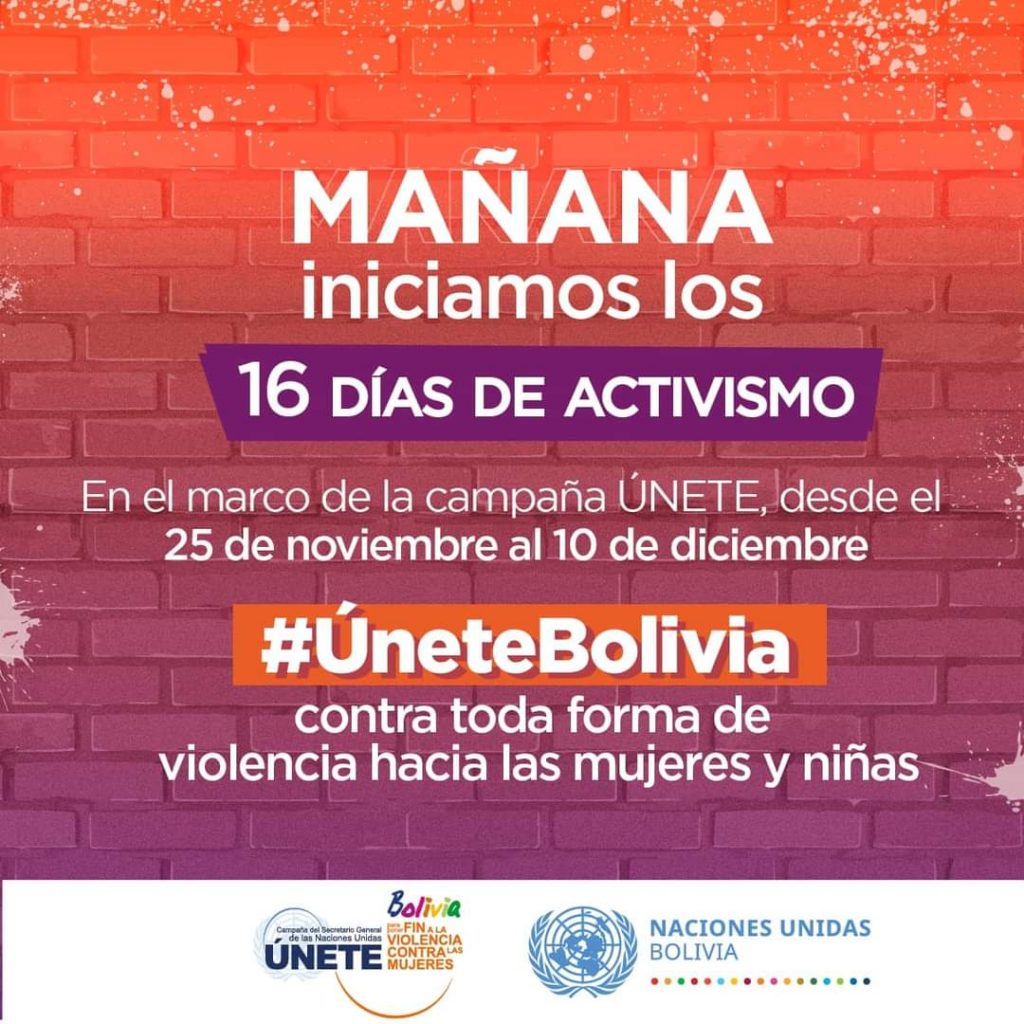 The agenda includes the digital movement, the "art against violence" campaign (November 25), the Flashmob in La Paz, Cochabamba and Santa Cruz (November 25 and 26), and the 16-day digital campaign.
In addition, on 30 November, the radio novel "Gender Based Violence in the Rural" will be presented and trainings will be held for public officials.
A national meeting of Women's Human Rights Defenders will be held in Cochabamba on 1 December, and a second meeting against harassment and political violence will be held in La Paz the next day, and a Stand Up Comedy show will be held on 9 December.
#Bolivia #ranks #South #America #femicides #Razón