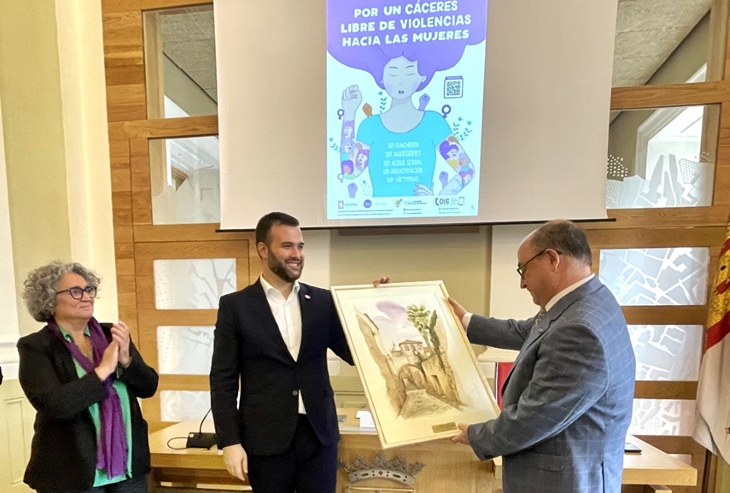 José María Montero, director of the Institute of Forensic Medicine of Cáceres, received the 25N Award this morning from the Women's Sectoral Council in recognition of her work in the fight against gender-based violence. The action, held at the Cáceres City Council General Assembly, started with a minute of silence for victims of sexist violence.
"This is a very important recognition, it glorifies this award and makes it more visible and serves to highlight what has been done to prevent a second victimization and to make forensic procedures more dignified," said Cáceres Mayor Luis Salaya. and less harmful for those who have to experience them, and it is less feared and frightening for the victims".
"Also to make existing structures visible and make it a State issue", "and a government structure for women's equality organisations, groups and offices, Women's Houses, as well as a state structure to protect and assist them".
We must act with gender violence against denialist discourses and make the majority discourse visible, we must fight those who deny its existence and position on it, there is a social and political majority that recognizes this, denialist discourses are minority groups and structures continue to be prepared to deal with these problems. .
He stressed that there is good coordination between institutions in Extremadura and Cáceres, "so that resources are organized and not duplicated, and where we cannot do it alone is reached through a joint effort."
"Gender-based violence is a structural problem stemming from the macho and unequal social structure; "We need to not only deal with victims and provide the tools to eradicate it, but also confront inequality comprehensively, eliminating inequality," Salaya said.
Montero thanked the City Council for this award and wanted to share it with the entire team of the Institute of Forensic Medicine, as it "means to visualize the quiet but fundamental work of forensic experts and other professionals working in legal medical institutions".
Awards like this "reaffirm that there is still value in fighting for equal rights and opportunities for all people," he said.
"We have a long way to go, a lot more to change, but I'm sure everything will be much easier if we walk together. The future is when we continue to write it, what could be better than writing it together."
BIOGRAPHY
José María Montero graduated in Medicine and Surgery from the University of Salamanca in 1984 and has specialized in forensic science since 1986. Forensic and Forensic Specialist, he was the director of the Cáceres Forensic Anatomical Institute from 1990 to 2004, and since 2004 the director of the Cáceres Institute of Legal Medicine.
His interest and professional value have led him to carry out activities of an international nature, and he is a professor at training courses for judges, prosecutors, police officers and forensic doctors in Nicaragua, Honduras, Guatemala, Bolivia, Peru and Turkey; He is collaborating as coordinator of working groups of Central American professionals developing a guide to good practice in the implementation of the Minnesota and Istanbul Protocols, and Post Graduate Professor of Legal Counseling at the University of Extremadura Law School.
Cáceres is the chairman of the Deontological Commission of the Sanli Official College of Physicians, a member of the Interdepartmental Commission for the Elimination of Gender-Based Violence of the Regional Government of Extremadura, and an elected member of the National Council of Forensic Medicine.
She has also gained national and international recognition for her work with victims of gender-based violence and for always wanting to avoid re-victimization.
#Director #Cáceres #Forensic #Institute #Receives #25N #Award #extremadura7days.com