saved more than 90 pets between dogs and cats. Each has a different history of abuse. These 'earthly angels' are located in Ambato, the capital of Tungurahua, in the Ingahurco sector, at the Paquito Foundation, located between Uruguay and El Salvador streets.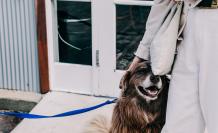 Never leave your pet at the door of a facility.
Read more
The director of the foundation, Sandra Ojeda, is one of her goals in life. Giving abandoned pets another chance. It was this determination that set the foundation in motion. But this devotion to "four-legged friends" is expensive for them.
You must have at least $100 for each ransom. this is what is needed for offer them honorable assistance as soon as they get their hands on it.. Well, animals become extremely vulnerable and you need to take them to the vet first to determine their health. After that, he is transferred to a place where he finds calm and security.
"Expenditures vary according to the condition of the pets. I know requires at least $100 per puppy", explains Ojeda, arguing that it is not a simple act of picking them off the streets.
The veterinarian must complete a full examination. They must be dewormed, vaccinated, sterilized and then provided with adequate food. every case. "We have to do the whole overhaul because if someone comes in sick, they can infect other animals in the base. Spending tends to increase when they are fractured or crushed by attacks," says Ojeda.
White, One of the rescued dogs was purchased from a person for $5.
Man tied him up with a cable and always treated him badly. Others were reported by neighbors connecting them to the outdoor patio.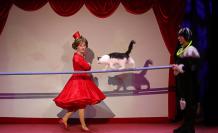 Moscow has the only cat theater in the world
Read more
Among the cases that most affected him were Negrito, a crossbred dog that was crushed. but instead of her owners to cure her or take her to the vetwhere they expected him to die, they tied him to the courtyard.
The case was reported in 2021 in Huachi Totoras, south of Ambato. When they came to the rescue, they found it covered with maggots. They tried to save him and took him to the vet at the foundation's expense. "There are times when I even stop eating to take care of them (to be saved). The most helpless are in the foundationslong-lived pets and a bit of a disability", says Sandra.
Gabriela Osorio Head of Refugia2 in Guaranda (Bolívar)He mentioned that this awareness of love towards pets is still necessary.
Before the pandemic, they had as many as 130 dogs and five cats, but the number of abandoned ones increased during the pandemic. They keep donations and sponsorships, but it's not enough because they want $1,500 each month for food and a thousand more every three months for veterinary expenses.
Luis Bejarano Animal Protection Ecuador (PAE)He states that they receive messages and calls to animal rescue organizations every day, but they cannot intervene in all emergencies because they do not have sufficient resources.
"recovery The issue is not just taking the animal from the street and taking it to the shelter.they have to take responsibility for the whole process from getting caught until they find a family," says Luis.
add this Costs based on the number of animals you own. They spend about $400 a month on food alone, often exceeding a thousand. "This is why many organizations owe stores or vets high," he says.
#Rescuing #pets #costly #task