Pets are an essential part of life for many people in Spain and around the world. With this excuse Bill for the protection, rights and welfare of animalsKnown as the Animal Welfare Act, pending approval. However, it aims not only to track animal abuse and improve the conditions of animals in Spain, but also to regulate which ones can be kept as pets at home and which cannot.
In August of this year, the Minister Ione Belarra He announced some of the most important aspects of this law, such as prosecuting practices such as cockfighting and animal abandonment. Therefore, fines for such practices can reach €200,000 or mean prison sentences of up to 36 months.
One of the most important points of this new regulation is that, It is necessary to take a course to own a dog.. Even those who already have it will have two years to complete it once the animal welfare law goes into effect.
Another point that creates the most doubt and controversy is that this law will determine which animals can and cannot be domesticated. The law speaks of a "positive list" of animals, that is, those who can become pets. The rest of the animals would be banned.
Which animals are prohibited as pets?
It is still unknown which animals can be kept at home and which cannot. But the law details the selection criteria: whether they are invasive species or not. According to that Spanish Catalog of Invasive Alien Species of SpainFrom the Ministry of Ecological Transition and Demographic Challenge, some of the animals classified as "invaders" and should in principle be banned under this law include:
Hedgehog
mongooses
raccoons
mice
mongooses
vietnamese pigs
spiders
crabs
frogs
frogs
exotic fish
exotic birds
The list in the catalog is longer and breaks down animals by taxonomy: non-arthropod invertebrates, non-crustacean arthropods, crustaceans, fish, amphibians, reptiles, birds, and mammals. The law details the criteria to be followed: "Invasive alien species may under no circumstances be included in the list of positive pets under the conditions defined in the Convention. Royal Decree 630/2013Editing the Spanish Invasive Alien Species Catalogue, August 2".
On the other hand, this list has not been closed and has been modified since its publication in 2013. In fact, they detail on the ministry's website, "The Spanish Catalogue of Invasive Alien Species is a dynamic tool subject to permanent change."
If a banned pet is owned after the law has been approved and implemented, that pet will continue to have companion animal status. However, activities such as breeding, selling or transplanting should be reported to the competent authority. They will also need to inform the Technical and Scientific Committee for Animal Protection, which will evaluate whether the consulted species can be part of the list of allowed animals.
Is it illegal to keep rabbits according to the New Law on the Protection, Rights and Welfare of Animals?
While the positive list of animals accepted as pets is pending publication, nothing seems to indicate that the rabbit is one of the forbidden animals. While it is reported to many media as a sure thing, the truth is that the rabbit is not included in the Spanish Invasive Alien Species Catalogue, and there is no special mention in the bill either.
Thus, while the rabbit may hypothetically appear on the banned animals list after publication, nothing seems to point to it at the moment.
What is certain is that this law will allow the most common pets in Spain, for example dogs and cats. By Industry data from the National Pet Food Manufacturers AssociationIn 2021 there were more than 29 million pets in Spain, of which:
9 million dogs
About 6 million cats
about 8 million fish
5 million birds
More than 1.5 million are small mammals such as rabbits.
1.5 million reptiles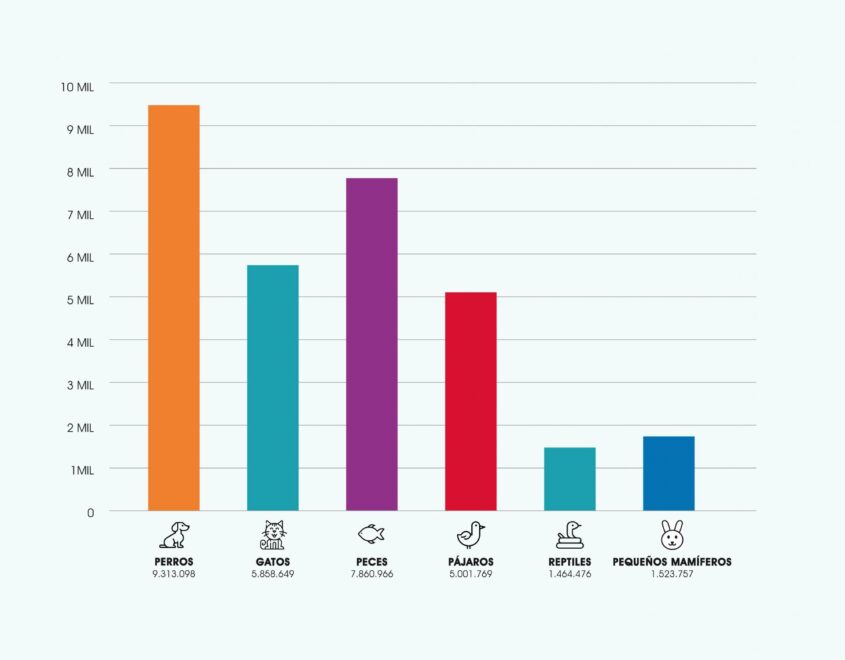 The text of the law states that the positive list of pets must be published no later than 48 months from the entry into force of the animal protection law. Therefore, it would take 4 years to know which animals are prohibited in Spain.
Currently, the animals most common in Spain (dogs, cats, rabbits…) do not seem to make it to this list regarding the Law on the Protection, Rights and Welfare of Animals, although it may affect those who have some. fish species, birds, amphibians or rodents.

#banned #pet