AMYTS union calls strike, complaining they still haven't heard anything and called department head Enrique Ruiz Escudero with no response | The Madrid Association of General and Family Physicians shows "unconditional support" to their colleagues and criticizes that the Ministry's recommendations are "reduced to vague promises to limit agendas".
Seventh day of doctors and pediatricians strike primary care of the Madrid. They met one more day in the presence of the Ministry of Finance. Javier Fernandez-Lasquetty looking for ways out of a situation stretches out over time with no signs of immediate resolution. The AMYTS union, which called for the strike, said there was still no news from the Ministry of Health and the head of department Enrique Ruiz Escudero and They didn't get an answer. Although the ministry "the ability to summon"Given the lack of action by health, AMYTS states it will formally record the "urgent meeting" request.
The last meeting was held last Wednesday.. Ministry of Health insists there is strike committee "one-sided" broken person negotiations, when a de facto agreement is reached between both parties. AMYTS denies this and says doctors are asking. "trust, security and real change". The union argues that this requires investment, so they focused on the Ministry of Finance again this Tuesday..
"The consultant doesn't care if a colleague saw 70 children yesterday, because he has been following three pediatric consultations for months," AMYTS criticizes.
The general secretary of the union made statements to the press. Angela HernandezHe criticized the Ministry for "not taking action" and professionals "suffer" and that population "It is intervened in terms of emergencies" and feel your support. "The counselor doesn't care if a colleague saw 70 kids yesterday, because it's been months three pediatric consultations. It matters to us," he said.
AMYTS spokesperson referred to head of Health accused of not attending meetings. "The sender to the meetings cannot explain what worries the professionals most, namely, what happens to patients 35, 36, 37, 38, even if there is demand control, which is necessary not to offend the professionals… Where and by whom will this help be given? Because the professionals are already very tired "He's not responding to that," he said.
BEYOND THE AGENDA
The strike committee requests 21 patients for Pediatrics, with a maximum of 31 patients per Family and Community Medicine consultation and a minimum of 15 minutes per child, with a minimum of 10 minutes per patient. The Ministry also offered to set an agenda for 30 patients. in Family Medicine plus four assistant appointments, ten minutes per patient, for non-deferrable cases; and 20 patients plus 4 non-deferrable cases for Pediatrics, with 15 minutes per patient.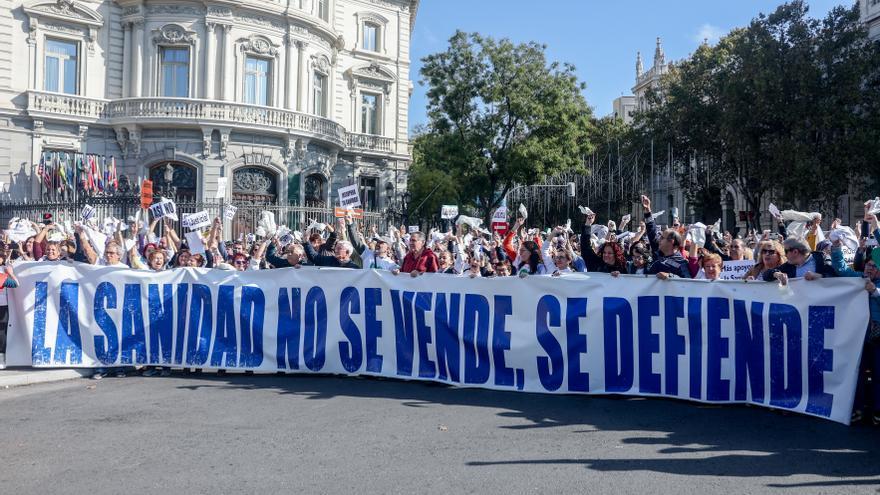 Hernández announced that he called the Minister of Health and did not answer the call, insisting that no preliminary agreement had been signed, which the Ministry of Health assured. "What do you want us to do? A written request for you to say later that we didn't do it as in out-of-hospital emergencies? We're at your disposal, but we're starting to think he's a consultant appointed by the City of Madrid to leave Primary Care," the union spokesperson complained. he will be on the streets of madrid again tomorrow wednesday With a walk on Sagasta Street, starting in front of the Ministry and ending at Puerta del Sol.
10 minutes per patient
this tuesday Madrid Association of General and Family Physicians (SEMG Madrid) expressed "unconditional support for their demands and the strike they are continuing". It's been 20 years since the scientific community condemned the "10 Minute Platform" for "the increasing deterioration in the availability of effective care time for patient care."
design "consecutive improvement plans" by their governments Community of Madrid They warn that they don't want to say "let alone fix the situation, reverse its unstoppable worsening". At the moment, SEGM Madrid considers that the Ministry's recommendations "do not show any level of commitment to the claims" and are "reduced to vague promises and vague proposals to limit the agendas of medical professionals". rearrangement of excess demand help by patients without reliable documentation support and an economic memory to support the basic measures to be implemented to deal with such important forms of reorganization of health centers".
"The current proportion of health expenditure allocated to Primary Care only proves that the unstoppable progression of this level of care deterioration will continue," says SEMG Madrid.
For this community, adequate funding of Primary Care for the Community of Madrid "must become an absolute priority". They think that the current proportion of health expenditure allocated to Primary Care (a little over 10% and far from the optimal 25% figure they stated) "only proves that the unstoppable progression of this level of care deterioration will continue".
This scientific society He thinks that the current working conditions in the Community of Madrid "are not attractive to doctors starting their specialist training: they either do not choose Family Medicine, either leave their training midway or decide not to practice before." At the end of their residence period, they either migrate to regions or countries with better prospects".
SEGM Madrid, inter alia, if it is intended to continue the delivery of health care during the afternoon shifts, "these positive discrimination measures (programs compatible with personal life, working hours are not limited to evening hourssignificantly more attractive wages and working conditions, special facilities for training, and legal absences…)".
fed up throughout the region
In the same vein, this Tuesday Confederation of State Medical Unions (CESM) "has shown its support to all colleagues in Primary Care who have called for mobilization in recent weeks. Despite the allegations in recent years," CESM haslack of interest from different managements for offering real solutions to the problem that "causes professionals to take to the streets to demand improvement in working conditions and therefore in the quality of care provided to the public."
CESM sees agenda limitation as "key" to avoid forcing professionals to lists of more than 70 patients per day
The Confederation states that Primary Care needs an adequate budget "to deliver competitive salaries and to efficiently size staff so they can fulfill its mission of preventing and monitoring community health." Likewise, he considers a limitation of agendas to be "key", avoiding the maintenance overload that strains professionals. More than 70 daily patient lists. In addition, as pointed out by the Primary Care Physicians Forum, consultations are de-bureaucratized and family doctors and pediatricians freed from all non-exclusive administrative duties.
#Health #strike #Madrid #Seventh #day #strike #doctors #union #accuses #Madrid #Health #acting