Frank-Walter Steinmeier responds with understanding to the Chinese people's protests against the country's strict policy against the coronavirus pandemic. "I was very impressed with the images that came to us from Beijing and various cities in China," he says in an interview with DW. In Germany, the fight against the epidemic hit many people hard. "We can only imagine how great the burden is for people in China, where the measures are much stricter, much longer and have continued to this day."
Beijing must respect freedom of expression
Discontent with China's strict zero-COVID policy has sparked nationwide protests in recent days. The reason was that ten people were killed in a fire that broke out in an apartment building in Urumqi, in northwest China's Xinjiang province, last Thursday. "As a Democrat, I can only say this: freedom of speech is an important asset," the president says. "I can only relate what we saw with the hope that Chinese state officials will respect this right to freedom of expression and demonstration."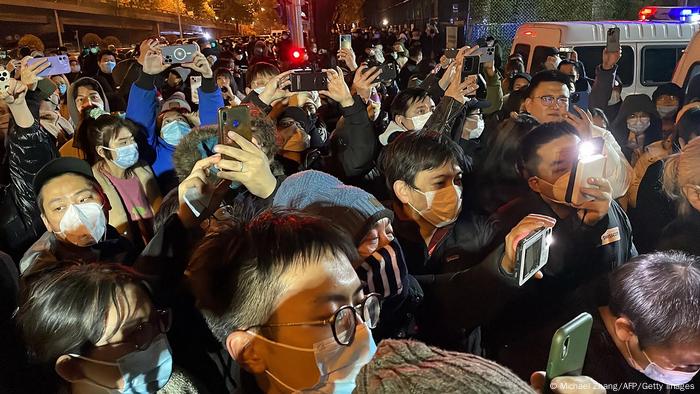 At the end of their patience: In China, people are protesting the government's harsh zero-COVID policy.
The threat of darkness and cold
On Russia's war against Ukraine, Steinmeier says he condemns Russia's recent attacks on the civilian population and gas and electricity supplies in Ukraine: "I think that's part of the war strategy we're seeing here. Military aggression against the Ukrainian army. But We have a brutal attack on critical infrastructure and therefore the civilian population, and it is becoming more visible as we approach this winter." Steinmeier expressed his deep concern about the situation of the population in the war zone: "We saw what threatens people in Ukraine: difficulty, darkness and cold."
This is not the time to talk about ceasefire
The president, who was formerly Germany's foreign minister, believes the time has not yet come for talks on a possible ceasefire. "All the recommendations for a ceasefire at this time are of course thoughtless, because now a ceasefire salutes the injustice that has already been done. Now a ceasefire would mean Russia taking the occupied territory. and the theft of land would also be acceptable."
"I am very grateful to the German Bundestag"
In an interview with DW, the German president welcomed the German Bundestag's intention this week to recognize the so-called Holodomor in Ukraine as genocide. In the early 1930s, millions of Ukrainians starved to death as the then Soviet leadership systematically reduced and confiscated food. Steinmeier: "The deliberate strategy of the Stalin regime in 1932 and 1933 was to starve part of the population of the Soviet Union. Steinmeier said he was "very, very grateful" that parliament was willing to classify this tragedy as genocide.
Western Balkan countries' EU accession prospects
According to Steinmeier, the war in Ukraine also changes the Western Balkan countries' hopes for possible EU membership, for example. Steinmeier will travel to North Macedonia and Albania this week. Many countries in the region with hopes of EU membership have recently expressed their fear that the European Union will now focus on the possible membership of Ukraine. "I understand the impatience of some, but the trip to North Macedonia and Albania also serves to send a message to the region: if relevant progress is made within countries, the road to EU membership will become more manageable."
(gg/ers)

#Interview #German #President #Worried #Situation #China #World